A coming-of-age story set primarily in New Delhi, India, with a sub-plot taking place in New York, Abby Virtually captures a young teenage girl's foray into global tech entrepreneurship against the backdrop of a society caught between modernity, traditional values, and the changing role of women.
Abhaya, an Indian teenager from New Delhi, India, cannot stand living at her parents' home any longer. Sharing a room with an older sister, she distastes a father who is heavy on tradition. A brilliant programmer, Abhaya forges a secret life online, where she rents her services to clients around the world with a secret plan to make enough money, so she can run away from home. With its multiple layers, Abby Virtually introduces readers to themes including contemporary generational gap, ethnical prejudice, and violence against women. Yet where Abhaya's journey ends up taking her, is the last place she would have ever imagined.
Abby, Virtually is published by Morgan James Publishing. It is available online (ebook) as of Sept 2018, and at bookstores as of Nov 2018. To stay tuned please follow Ronen on Facebook and Twitter.
This book can be purchased online via these links:
>> Amazon
>> B&N
>> Most online book stores.
The book can also be purchased in brick and mortar B&N stores (if they do not have it in the store, they can order it for you,) as well as any independent bookstore. Abby, Virtually is distributed by Ingram, the largest book distributor in the USA, and thus can be ordered through most bookstores.
You may also purchase the book directly from the author via this website. When purchased directly from the author, you may request the book be dedicated. Please follow this link.
For more praises and reviews, please click here.
If you read the book and wish to submit a review, please click here.
Events
Book receptions, readings and signings, past and currently scheduled:
Friday, October 26th, 2018, 6:30-7:30 PM, at Republic of Yoga, Cary, NC. Free event including a reception with Ronen Divon introducing the novel, followed by a short reading, Q & A, and concluding with book signing. Please note: it is not necessary to purchase the book to participate in this event. Middle-eastern desserts and healthy drinks will be served.

Sunday, November, 11th 3:00-5:00 PM, at the Ogle House, Downtown Cary, NC. Book reception for 'Abby, Virtually' with Ronen Divon and Sheila Ogle. RSVP required for this (free) event. RSVP link to follow. Please note: it is not necessary to purchase the book to participate in this event.

Saturday, November 17th, 2018 at 1:00–4:00 PM, at Dog-Eared Books, Raleigh, NC. Free event including book reading and signing. Please note: it is not necessary to purchase the book to participate in this event.

Book signing at Barnes & Noble on SE Maynard Rd, Cary, NC, is scheduled for late Nov / early Dec. Details to follow.
Click here for Abby, Virtually Press Release by Morgan James Publishing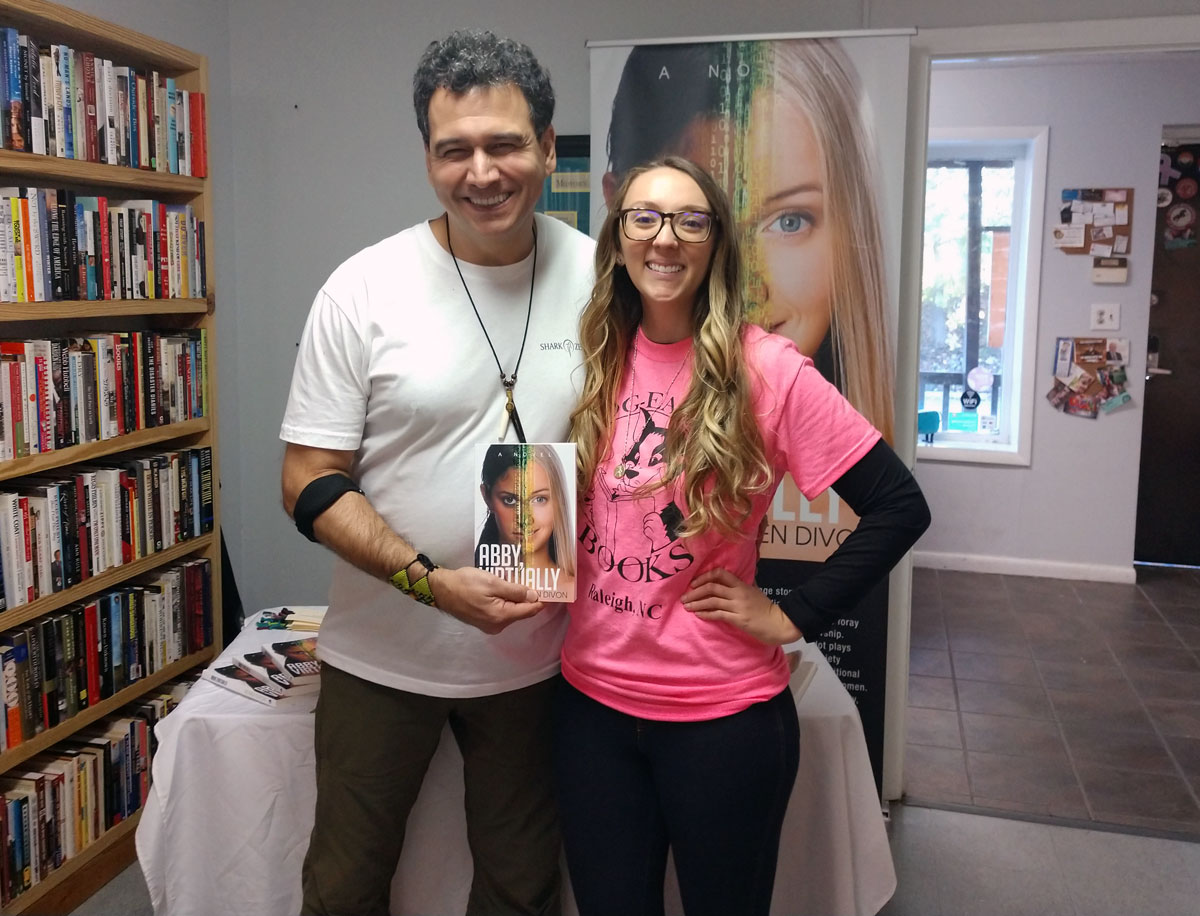 Novel Dedication
Abby, Virtually, is dedicated to women everywhere. All beings are beautiful souls; having no gender, skin color, or ethnicity.
Acknowledgements
To my dearest wife, Yael, and my cherished kids; a source of constant inspiration.
Special thanks to Tamara Fish, whose assistance during the process of writing, proved crucial to completing this work. My thanks are also extended to Star Galler, who corrected many of my short stories, as I started on my writing career path. Star is also the one who suggested that this tale be made into a novel.
My gratitude to my MJP editor Lara, for her excellent guidance, as well as to my dear friend Scott Korbin, who introduced me to David. Thanks also for various helpers along the road, including but not limited to my family, Mary Payson, and Prarna Desai. Finally, big thanks to the entire Morgan James Publishing team, including David, Jim, Gayle, and many others, for making it all happen.

Special Thanks
… to the wonderful supporters that backed up my IndieGoGo campaign!
The list excludes people who asked to stay anonymous and is presented in no particular order.
Amy Frankel, Kathy Worm, Runa Zarka, William Mueller, Yuval Gonen, Ehud Rivlin, Anthony Hidalgo, Rachel Groweiss, Aaron Zauber, Donna Canonico, Carol Wallace, Maria Robinson, Catherine Shearin, Kyle Wilensky, Jeannie Connolly, Aaru Fried, Fitz Blaku, Dayna Ford, Vicki & Kris Blaku, Vallerie Legeay, Sheryl Jeannine, Melissa Mucci, Orit Ben-Tov, Chris Randoloh, Guy Itzkovitch , Avner Divon, Jeanne-Marie Lowell, Gregg Pichler, Carol Walmsley, Liz Kahn, Carlo & Melissa Zola, Sarel Doglu, Flynne Meares, Ed Manning, Marie Satterfield, Rachel O'Reilly, Terri Mendoza, Mindy Goldstein, Ellen Gaussiran, Donna Ray Berkelhammer, Crystal & Matt Hawks, Kamy & Yuki Singer, Marcey & Kevin Rader, Steve Hand, Gal & Naomi Profesorsky, Shane Lukas, Pam Goodman, Amy Gretenstein Boone & Geoff Boone, Debbie Ash, Mark Berman, Annette Zygmunt, Ben Blankenship, Noa Ronen